Our modular design for a portable solvent extraction plant coupled to copper sulphate crystallization can produce 20,000 kg of copper sulphate pentahydrate crystals per day which is equivalent to 5,000 kg of copper metal per day. The capital and operating costs are lower for copper SX / Crystallization as compared to copper SX / EW and copper sulphate pentahydrate has a higher value (10 % premium) as compared to copper metal. Our modular plant design has the benefit that it is portable and can be relocated to alternative leaching sites with fast commissioning and plant start up times.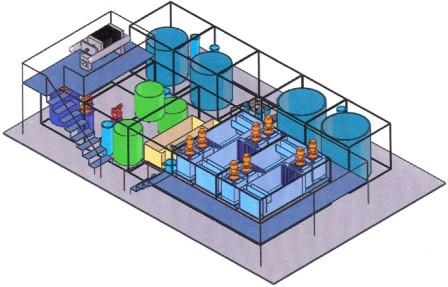 For more details: SX / Crystallization Plant 1
Capacity: 5 TPD copper metal basis
PLS Flow: 180 to 720 L/min
Requirements: 7,700 kg H2SO4 per day
cooling water for crystallizer
PLEASE NOTE: This plant is no longer offered.
Advantages as Compared to SX / EW
The advantages of using the copper solvent extraction / crystallization process are summarized as follows:
Capital costs are much lower for the crystallization unit as compared to an electrowinning circuit.

Operating costs are much lower because of low electrical consumption and less labour costs.

Higher value product is produced. Copper sulphate pentahydrate sells for 10 % more (copper basis).

Faster commissioning and plant start up time. All unit operations are within modular frames.

Modular unit operations provide a portable plant with fast relocation and plant start up times.
Process Description
The process basically consists of the following process steps:
Heap leach or vat leach the copper from oxide ores with dilute sulphuric acid in order to dissolve the copper as copper sulphate. The leach solution is known as PLS which becomes the SX feed solution.

Solvent extraction of copper on to the organic phase and recycle the raffinate back to leaching.

Strip copper off the organic phase with acidified solution from crystallization in order to produce a high concentration of copper sulphate in the strip liquor. Recycle the organic phase back into the process.

Crystallization of copper in order to produce copper sulphate pentahydrate crystals.

Filter, wash, air blow dry, and package the copper sulphate product.
Items Provided
Our portable solvent extraction / crystallization plant includes the following items:
Modular frames with elevated operator platforms, stairs, and hand railings.

SX feed tank with filtration system, SX feed pumps, and flow control.

Mixer-settlers with SX impellers connected to in-line gear drive agitators.

Raffinate and strip liquor coalescers for removal and recovery of entrained organic phase.

Crud treatment circuit to include treatment tank, pre-coat tank, filter press, and filtrate tank.

Acid dosing system with metering pump and inline static mixer.

Crystallizer unit for production of copper sulphate pentahydrate from the strip liquor.

Filter press for copper sulphate crystals with copper sulphate discharge chute for product handling.

Heat exchanger for transfer of heat from the strip liquor to the strip solution.

Strip solution feed tank with heater, temperature controller, feed pump, and flow control.

Completely assembled in modular frames and factory tested prior to shipment.